Windows assigns drive letters by progressing through the alphabets. Apart from letters A and B, drives are named C, D, etc. You have no doubt seen that the letters for the partitioned drives on your system do not change. If you have a DVD drive, it's letter doesn't change either but the same doesn't hold true for USB drives. Windows assigns the drive letter to a USB drive dynamically so that a drive that was labeled F drive might later be labeled G if another drive(s) is connected. Normally this isn't a problem unless you need the USB drive to always be assigned specific letter to keep certain paths functional. Here's how you can assign a permanent drive letter to a USB drive in Windows.
This trick requires no third party apps and will work in Windows 7 and above. You must have your USB drive connected to your system to assign it a permanent drive letter.
Open the Start Menu and type 'compmgmt.msc' in the search bar and open the Computer Management window. In the left pane, expand 'Storage'. Click on Disk Management and wait for the right pane to populate. Select the USB drive you want to assign a permanent letter to, right-click it, and select 'Change Drive Letter and Paths…' from the context menu.
In the dialogue box that opens, click change which should open an action box called 'Change Drive Letter or Path'. Select the drive letter you want to assign it, and click OK to save the changes.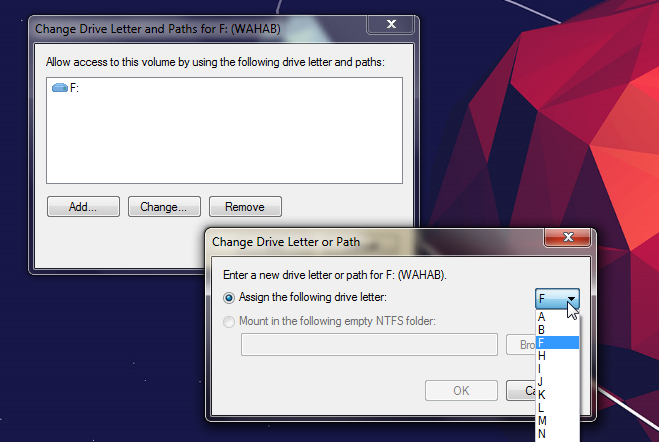 That's all takes. This should work so long as the USB drive you're using is 100% compliant with USB standards.