Google Now is arguably one of the best personal information aggregation services that we've seen so far. It's like having a personal assistant at your service all the time, to present you with just the information you need – a task the ancestors of our modern smartphones, which were aptly called PDAs (short for Personal Digital Assistants), aspired to accomplish. Since its debut on Android 4.1 Jelly Bean, Google Now has come a long way, with several new cards being added with each OS update, as well as iOS support added last year. On the desktop front, last year brought Google Now-like information-rich cards Google search results, and Google Now-style natural language voice search added to Chrome. The latest update in this series of Google Now expansion brings its cards to Chrome's notification center. Let's take a closer look after the jump.
For Google Now cards to show up for you in Chrome, you need to be signed in with the same Google account in both Chrome and an Android or iOS device, and have Google Now enabled on the latter. When you click Chrome's Notification icon (the small bell) in the system tray, you will start seeing some cards right away, arranged neatly in a vertical list. Not all Google Now card types are supported in Chrome right now, though several important ones such as weather updates, flight info, sports scores, travel times etc. work just fine.
As you can see above, the Google Now cards shown in Chrome resemble their Android counterparts, though there are certain obvious UI differences: a close button on each card instead of the swipe to dismiss gesture, and links at the bottom of each card for introducing you to Google Now on Chrome. Clicking the cards works as expected; the weather card will take you to weather results in a new tab, the maps one will open up the route in Google Maps, and so on.
Now I personally love Google Now and can't come up with one reason against using it that doesn't involve the image of someone with a tinfoil hat in a basement, but I realize that not everyone on the internet has to share my views. Irrespective of what reasons you may have for not using it, you may easily disable the service in Chrome just the way you can disable notifications from any installed app or service. For those unfamiliar with the method, it involves clicking the Gear icon at the bottom-right of the notifications pane and then unchecking the entry for Google Now on the screen that follows – it's that simple.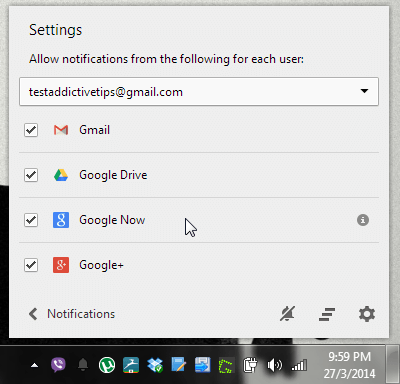 I'm really happy to see tighter integration between Google's products across different platforms, as it lets me view the information I need at a quick glance regardless of what device I'm using.