If you have an Android device that you've updated to Android 6.0 you have no doubt realized that every time you connect your device via data cable to your PC, it defaults to charging mode. If you're looking to transfer photos from the device to your computer, you have to pull down the Notification panel, tap the USB connection icon, and choose the MTP protocol or PTP protocol in order to access files on your device. In older versions of Android, there was an option to set the default USB connection type so that you wouldn't have select it each time you connected your device. In Android 6.0, the options seems to have disappeared. It has in fact moved and you can only access it if you've enabled developer options.
In order to now set a default type for the USB connection, you have to have developer options enabled in Android. There is simply no way around it. If you already have developer options enabled, you can go ahead to the next step and set the default for the USB connection, if not, enable them first.
With Developer Options enabled, go to the Settings app and tap Developer Options. Scroll down to the Networking section of settings and you will see the 'Select USB Configuration' option. Tap it and select the default type that you want to set.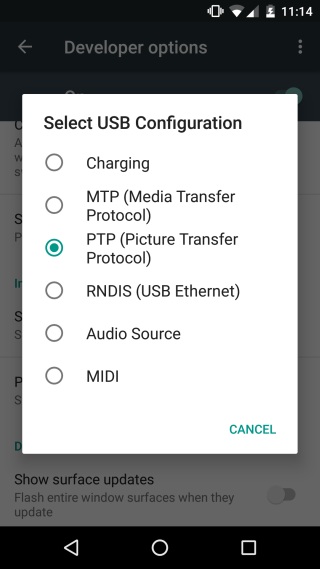 Connect your device to your PC and wait. If it doesn't show up in file explorer, check to see if Windows is searching for drivers. If it is, allow it to search and install any drivers it needs. This can happen even if you have connected your Android device to your PC under the same connection type. Do not disconnect the device and allow Windows to finish installing drivers. The next time you connect your device, it will default to the connection type you set.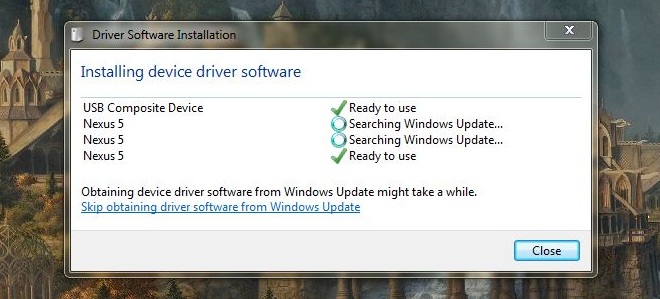 This change made to Android was quite unnecessary. It wouldn't have been a big deal if the option had simply moved to a different location but it's done that and also made it compulsory to turn on Developer Options.