Windows 10 has made both big and small changes to how things are done in the OS. Many features continue to work much the same way they did in older versions of Windows but almost as many things have changed. If you previously used a USB printer, sharing it with everyone over your network was pretty easy. All you had to do was go to the Share tab in the printer's properties and share it with everyone. The share tab is gone in Windows 10 and how you share a USB printer in Windows 10 has changed. Here's how to find the share option for sharing a USB printer over your network in Windows 10.
Open the Control Panel app and go to Devices & Printers. Right-click the printer you want to share and select 'See what's printing' from the context menu.
This opens the printer's jobs' window where you can see all active and queued print jobs. Open the Printer menu and select Sharing. This opens the properties window for the printer and here you have a Share tab. Go to the Share tab and enable the 'Share this printer' option. You can enter a different name for the printer if you like. Click Apply and everyone on your network should now be able to send print jobs to the printer you just shared.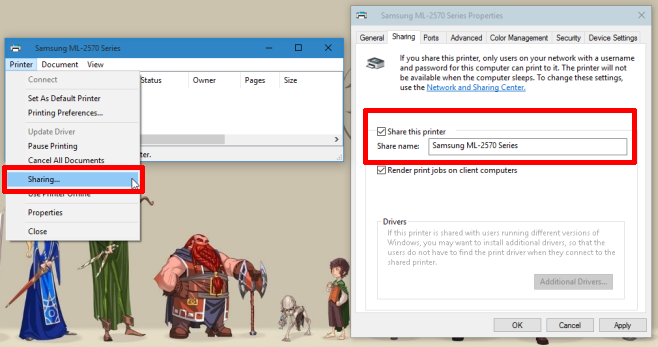 This works for when you have multiple systems connected to the same WiFi network but are not necessarily part of the same home or work group. Why Microsoft chose to hide this little option like that is a mystery but rest assured if you don't find an old setting, feature, or option in Windows 10, it's not necessarily gone. It's just moved.