I don't always log into Facebook on a public computer but when I do, I forget to log out. Sound like you? Most people know that you should always be careful when you sign in to a public computer but there isn't anything that can be done for forgetfulness. If you left an important personal account like your Gmail or Facebook account logged in on a public computer, there are ways to rescue yourself before your information is compromised, or before it falls into the hands of a dangerous prankster. Here is what you can do to remotely log out of your Gmail, Facebook, Linkedin, and Twitter accounts and end web browser and mobile app sessions.
Remotely Log  out Gmail for Web
Gmail offers the easiest way to remotely log out of any active sessions. Log into your account and scroll down to the very bottom of your inbox. In the bottom left corner Gmail tells you when you were last active and just below it is a Details link. Click it and a new window opens with complete details of your active Gmail sessions. Not only can you see when and where (which country) you're logged in from, but also which device.
At the top is a 'Sign out all other sessions' button; click it and you will be signed out of every web browser that you're logged into.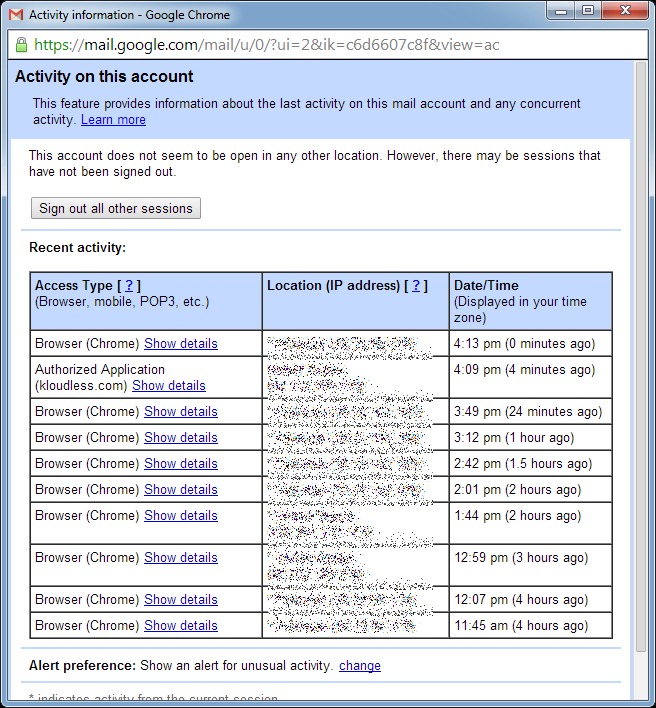 Remotely Log out Gmail for Android
The above method works only for web browsers and as you can guess, this excludes mobile browsers and mobile apps. This also means that if you use an Android handset and it's been stolen, or you left your phone unattended and unlocked, someone, anyone, can access your email. To sign out of Gmail on your Android phone, you need to take more drastic measures. You will have to revoke your phone's access to your Gmail account. Head over to your Google Account Settings and go to the Security tab.
Under Account Permissions, click View All and wait for the list of apps, services, and devices to load. Your Android device will be listed here and when selected, you will see a Revoke Access button. Click it and your Android device will no longer be able to sync email, contacts, etc. Be warned that if you've lost your Android phone, revoking access to it like this is not a good idea if you plan on trying to lock or find it.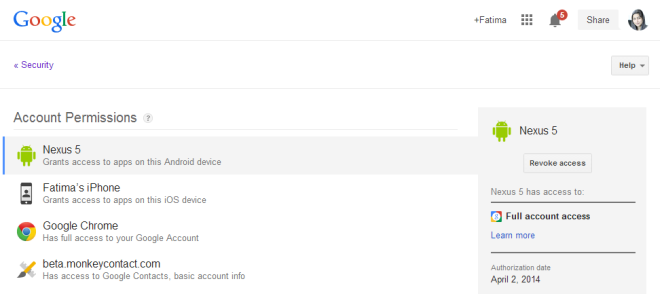 Remotely Log out Gmail for iOS
If you have Gmail configured on your iOS device, it will show up in this very same list. Click the device and revoke access to it the same way you did for the Android device.
Remotely Log out Of Facebook for Web
To remotely log out of Facebook, head over to your account settings and click Security. Scroll down and you will see all active sessions listed by platform (desktop, Android, and iOS). You can only log out from browser sessions and not app sessions. Expand the Desktop list and choose which session you want to log out of by clicking End Activity next to it.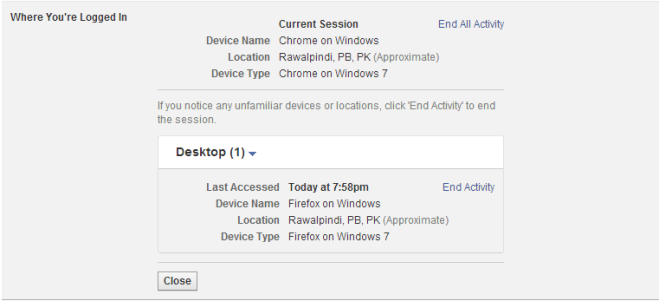 Remotely Log out Of Facebook for Android & iOS
Logging out of Facebook apps isn't as easy as it is to end a browser session. In order to log out the apps you have to change your password. Once you've changed your password, Facebook will ask if you want to be logged out of all other devices. Select the Log me out of all devices option and both Android and iOS apps will ask you to enter your password.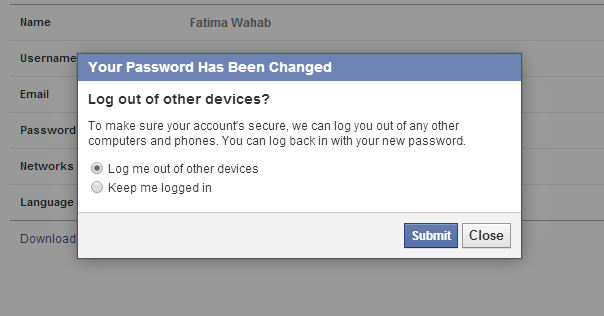 Remotely Log Out of Twitter
Twitter is perhaps the least cooperative of major services in allowing you to remotely log out. For iOS users, there simply isn't anything that can be done remotely and access to the Twitter app must be revoked from your iOS device. Needless to say this is simply because Twitter is lazy.
To remotely log out a browser session or log out of the Twitter app for Android, you have to change your password. Head over to your account settings and under Password, reset your password. This will log you out of all Twitter sessions, including your Android app. iOS users are still without options.
Remotely Log Out of LinkedIn
LinkedIn gives a one click solution to logging out of everything, except that it isn't the one-click that's needed; you have to change your password and you will be logged out of everything.
Words of caution: Remotely logging yourself out from a browser is easy and every major service lets you do it. The real problem arises when mobile apps are involved so be careful about handling your phone and make sure you have taken reasonable measures to protect your data in case of theft.