Being a Windows user, you'd perhaps be familiar with the 'Safely Remove Hardware and Eject Media' tool, which sits in the system tray and allows you to eject a plugged in USB flash device from Windows instead of directly pulling it out from your computer to prevent any opened files from being corrupted or lost. But if you are looking for a better way to disconnect your disks, let's say, via keyboard hotkeys, then help is delivered by the open source tool called USB Disk Ejector. Once fired up, it displays a complete list of currently connected USB drives and memory cards and enables their safe disconnection from the system.
USB Disk Ejector works from its simple yet intuitive user interface. Once launched, it resides in the system tray and you can double click its notification icon to view the main application window, which you can easily move around and place it wherever you require on the screen. The connected devices it displays appear in a convenient list, complete with their drive letter and label – typically you'll be able to identify the device by its manufacturer and capacity as well.
What's even more user friendly is the ejection process. Unlike the default procedure in Windows, you can eject disks pretty easily. After highlighting your desired device, for instance, you can simply press the Enter key on the keyboard or double click on the device name to disconnect it from your computer. USB Disk Ejector can even eject drives that sometimes no longer respond to the Safely Remove Hardware tool.
USB Disk Ejector carries a lot of additional settings too which can be found under its Options window (accessible from the right-click system tray context menu). Five tabs can be found to the left on this window; General, Positioning, Ejection, Card Readers and Hotkeys. General tab carries generic settings such as toggling the program to run on system startup and whether to boot minimized or maximized.
The Positioning tab carries options for changing the default position of the application window, while Ejection tab lets you control post ejection behavior like whether to close the program when the device is disconnected, force close programs running from the disk as well as turning on bubble notifications.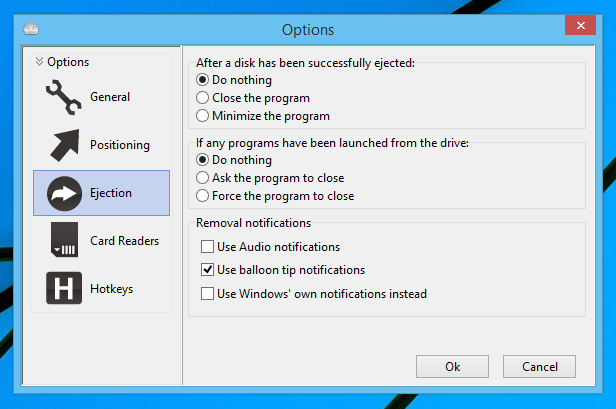 The program also enables you to assign separate hotkeys for ejection or other program related actions. For example, if you need to eject just the drive H from you computer without launching USB Disk Ejector from system tray first, you can add a hotkey shortcut for it. A device can be ejected by name, label, mountpoint and letter.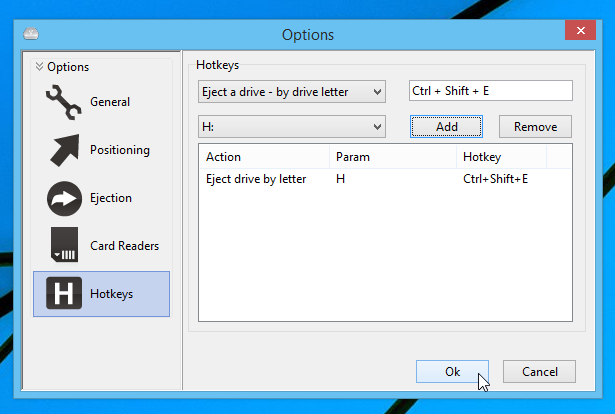 All in all, USB Disk Ejector is without any doubt, a useful program to safely and quickly remove USB drives and memory cards without data corruption. It works on all versions of Windows.