The Home button on my iPhone had a short life span and I couldn't get it repaired immediately after it stopped working. I tried 'going easy' on it for a while, and praying it would just fix itself (yes, I actually did that) and began looking for a way around it. That's when I found the AssistiveTouch feature, used it a few days, and immediately realized I had to have the real button sorted out. AssistiveTouch did fill the gap and then some but it was a bit too cluttered and above all, it didn't let me so much as respring my device and failed when I tried to recalibrate the Home button. That's why I love vHome, a free Cydia tweak available in the BigBoss repository that emulates the Home button on your phone the way it should.

Like AssistiveTouch, vHome adds a virtual Home button to your screen. Unlike the native option, this button doesn't expand to show a whole set of other options that are unrelated to the Home button. vHome recognizes a single, double, and triple tap. It also detects long and short presses accurately. What's more, you can use it to respring your device and even take a screenshot.
The tweak adds a simple preferences panel in the Settings app that lets you turn it off (it's enabled by default) and manage the button's opacity. Unlike the default button that fades automatically when it isn't being used, vHome's visibility is consistent. The button can easily be repositioned to any part of the screen while AssistiveTouch only lets you snaps the virtual home button to the side of your screen, unless it is in the way of a UI element.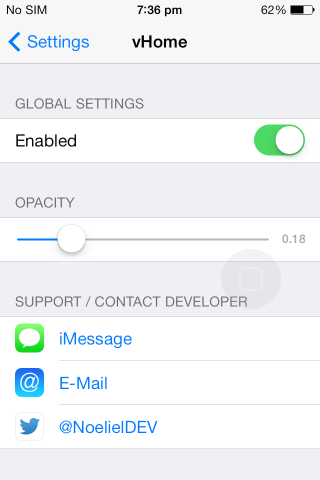 Now for the shortcomings of the tweak;  frankly there is only one. The button isn't context aware and if you open say the Messages app, and start typing, the button will not move if it's over the keyboard. There is a big chance that you will accidentally tap it before realizing you should have moved it to a different position on the screen. The tweak is fairly new so we can always hope an upgrade will make it better. At the very least, it should be context aware for the default apps but I'd much prefer it mimic the intelligence of the default AssistiveTouch button which knows it shouldn't obstruct in-game menus, options, and play buttons. If your Home button is indeed faulty, you can always keep vHome around, and disabled until you need it to respring your device etc and continue using AssistiveTouch.